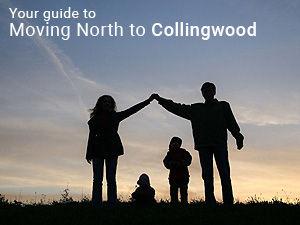 While living in the city has its perks, are you dreaming of mountain biking or snowboarding after work? Are you tired of the hustle and bustle of millions of people around you and want something quieter and more zen? Do you want more nature and fewer trees raised out of concrete? Moving north might be the best option for the single person who needs something more than the superficiality (and expense) of living in the city.
Collingwood is a great option for young families and single people, with its boundless recreation opportunities, great spots for food and drink and more affordable real estate. You can choose between a quiet, remote mountain location or a more happening location near or in the Village. What you'll really notice when you do purchase Collingwood real estate is that it costs significantly less than it does in Toronto – the average home in Collingwood is half the price of one in Toronto!
Living a life you love in Collingwood
There is a huge trend towards city-dwellers who come to visit this area and then make it their home. It used to just be a place to retire and now we are seeing people of all ages moving up here. While there is a large population of older people, millennials are getting on the bandwagon of wanting to live a life where they can pursue their passions where they live now, rather than waiting until retirement.
Recreation in Collingwood
The Collingwood area has a number of trails, parks and one of the best waterfronts in Ontario. People in Collingwood tend to enjoy:
Skiing/snowboarding

Golfing

Sailing/boating/kayaking

Cycling

Hiking
If outdoor recreation isn't enough for you, there are plenty of indoor spots to work out, including cycling, a circus club, indoor climbing, yoga, martial arts, crossfit and trampoline. You don't need to be in the city to attend the best gyms.
Working in Collingwood
As a young person, you might be wondering where you'll work up here. There are a number of job opportunities in the Collingwood area and the Financial Post has ranked Collingwood in the top 10 small cities with strong entrepreneurial activity in Canada. This entrepreneurial activity is driven by a strong information technology sector with media outlets, publishers, internet companies, IT and virtual businesses running the show. Job opportunities mainly come from retail sales, health, manufacturing, financial, and tourist-related service industries. The unemployment rate here is lower than that for the rest of Ontario and only 27% of residents commute out of Collingwood for work, which is also a viable alternative for young people looking to live here.
Collingwood real estate
Condos and townhomes in Collingwood are great for young and single people and Collingwood has some great condo real estate. Many condo developements are within walking distance to golfing and restaurants and a very short drive to the beaches and ski hills. Your city friends will visit often when knowing you are close to everything when purhcase a place in Collingwood.
If you need any help finding the right housing for your situation, feel free to call Christine at (705) 888-0201