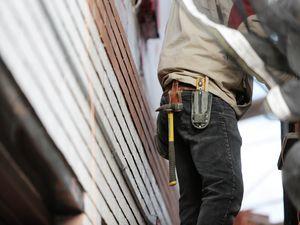 While the wind is howling and the snow is raging outside, you may not be thinking about the upcoming spring months. But, spring will be here before you know it and you will want to be ready. You can prepare your home even in the midst of winter by completing several home improvement tasks. Let's talk about several things you can do now to prepare your home for those warmer, colorful spring months.
Check for Air Leaks
While you are stuck indoors, a simple, yet very productive, task to complete around your home is to check for air leaks. You want to inspect the caulk and weather stripping around your doors and windows and replace them if necessary. This will not only help keep your home cool as the weather warms up but it will also trap the heat indoors during these colder months.
Replace All Your Filters
When was the last time you replaced your air filters, water filters, and more? For most of these products, they should be replaced every three months — if not more often. If you have not recently replaced your air filter, add that to your to-do list this weekend. This not only improves the quality of air inside your home (which will be very important during allergy season), but it can also help your HVAC system run more efficiently and for longer periods of time.
Install A Programmable Thermostat
If you want a home improvement project that can help boost your home's value and prepare you for all upcoming seasons, installing a programmable thermostat is the solution. This one tool can help keep your energy costs low and it is a much-desired home feature. In fact, according to one American survey, 77% of American homebuyers want to see smart thermostats pre-installed in a home before purchasing it.
Prune the Trees
Once the coldest part of winter has passed, step outside and begin pruning your trees. You want to complete this task near the end of winter to prevent hurting the tree and damaging its growth. If you are not familiar with how to prune trees or you have a lot of questions, it may be best to hire landscaping professionals to ensure you have beautiful and lush trees during the spring and summer months.
Being a homeowner in Collingwood comes with many responsibilities but by staying on top of these home improvement and maintenance tasks, you will be ready no matter what seasonal challenges come your way. For more home maintenance, design, and staging advice, check out Collingwood real estate agent Christine Smith's blog.