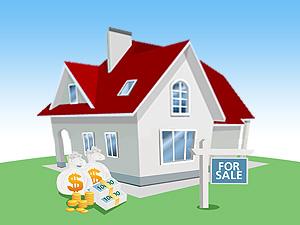 Buying real estate for the first time is an overwhelming process … everything happens fast and before you know it – you are a first-time home owner. It does not matter how prepared you are for this process; it is likely that you will make more than a few mistakes along the way. If you are looking to avoid any major pitfalls that most first-time home buyers make, you need to know what these blunders are. This means that you need to be informed about the things that most people wish they had known before they bought real estate for the first time. This will help you to make the best decisions in your purchase.
Here are the 3 things that most homeowners wish they known before buying real estate for the first time.
I Wish I Borrowed Less Money
When a bank offers to give you a mortgage for the full price of the home, this is what most people are looking for. However, getting a loan for the entire cost of the home is actually not the best route to take. Just because you are approved for a large amount by the bank does not mean that you can actually afford a home of this price. It is always best for you to actually buy a home that is about 20% cheaper than the total amount that the bank will loan you. This is the most effective way to ensure that you can really afford the home that you buy. If you buy a home for the total amount of what you are approved for, you are essentially maxing yourself out. Buying a home below the maximum will ensure that you are adequately protected if anything unforeseen does happen. Borrowing less money from the bank is always the option that you should take when possible. Looking for more affordable real estate in Collingwood to buy is your safest bet.
I Wish I Did Not Get an Adjustable Rate Mortgage
Adjustable rate mortgages are often really popular with first time buys. They often come attached with really low opening rates. However, these low rates are only short term. Since the loan is adjustable, the rates can go up after a short period of time. What you thought was a really low rate will not be low for very long. Skipping adjustable rate loans altogether is the best option if possible. This will enable you to know exactly what you mortgage payment will be each month no matter what. If you have a fixed rate loan, you will consistently know what your mortgage payment will be. This means that even if the economy and the real estate market change, your mortgage rate will not be negatively impacted.
I Wish I Didn't Drain My Savings to Buy My Home
When you buy a home, there are a lot of expenses that you need to consider. This means that using all of your cash on just the down payment is not a good idea. Beyond the down payment of your home, you will also have to pay for loan application fees, broker fees, closing costs, property taxes, homeowners insurance and much more. This means that you need to budget your money and be prepared for all expenses that will come your way once you become a new homeowner.
Get help buying real estate in Collingwood Ontario for the first time!
Getting a professional REALTOR® that knows the best homes on the Collingwood Real Estate Market should be your first step in the home buying process – especially if you are a first time buyer. Navigating the real estate market is no easy task and knowing all ins and outs to get the best home "your first time home" at a price you can afford should be done with the help of an experienced real estate agent.
Christine Smith is prepared to work hard in helping you find the perfect dream home whether it is your first or second home. Give Christine Smith a call at (705) 888-0201 to get started in the right home buying direction!