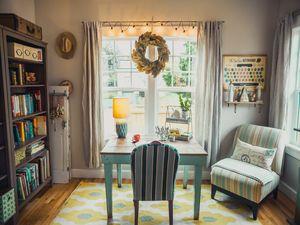 The opportunities to work from home are rapidly growing. In fact, just in the United States, there are more than 3.9 million remote workers and this number is continually growing. This means that many potential buyers are looking for a dedicated workspace in their home — a place where they can easily spend hours every day. If you are placing your home on the market, create a home office that instantly impresses. Here are a few tips for creating the ideal workspace.
Include Lots of Natural Lighting
Nobody wants to spend hours in a dark and dreary room. This means you want to choose a space that offers lots of natural lighting. This will make the room appear more inviting and welcoming. When designing this space, consider window treatments that are thin and easily allow in the light. You may also want curtains with bright colours and trendy designs.
Install Lots of Storage
No matter your position and the company you work for, you will have items such as office supplies and documents that you will need to store. Consider installing built-in shelves or cabinets in this area as well. Open shelves are another excellent storage option and are ideal for placing home décor and other trendy items to spruce up and liven up this space.
Don't Clutter it
Just like other areas in your home, when you are trying to impress potential buyers, you must keep clutter to a minimum. Make sure all paperwork, office supplies, and garbage is out of sight and stored in a locked desk drawer. Also, don't fill this room with unnecessary furniture and boxes. This will only make the room appear unorganized and small — both will deter potential buyers.
Include Some Greenery
Take the time to stage your home office. While you may place various home décor items throughout this room, an excellent addition is some type of greenery. Place a small house plant on a shelf and a succulent on your desk. Tropical plants such as lilies, orchids, or bromeliads will add a lot of colour, boost your mood, and clean the air in this room as well.
While there are many things you can do to create a home office, by keeping the design simple and the décor homey, you can create a beautiful, functional area. If you are ready to place your Collingwood home on the real estate market, contact real estate agent Christine Smith today.