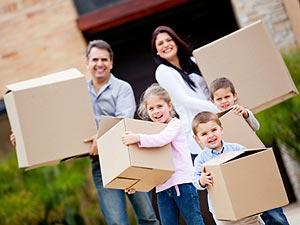 You finally closed the deal on your new Collingwood home. Now it is time to move in. But wait! Before you get to this point in the home buying process, you should have a little planning and work already done. A lot of people like to move into their new home on the day they close the deal. Doing so can be really stressful for the whole family. It is always better to wait and move in the day after the deals are closed; if you just can't wait, then follow these simple steps and you should have a smooth transition from one home to the next.
Allow enough time for packing, this takes longer than anyone thinks. Each family member should have the responsibility to pack a few special items they will need immediately in your new home. We all have something that we just can't go a day or night without. These should be packed and carried in the car with you rather than packed in the moving truck.
One great idea is to pack a box for each bedroom that contains sheets, pillowcases, blankets, pajamas, and towels for use that first night. It is much easier to find that one small box (clearly labeled) that lets you know this is what you need to have a clean, peaceful night's rest. If space allows, in the same box you can let your children pack a few more toys or "lovies".
Another great idea for moms is to pack kitchen items last in the moving truck so that they are the first items out of the truck. While the rest of the truck is being unloaded, mom can be inside getting the kitchen set up.
Moving can be a very exciting time, or it can be stressful (especially with children who are still sulking over the move). It is change. When you plan well for moving day, the day will flow smoothly. Remember, you just bought and moved into your new Collingwood home. Relax, take your time and enjoy it.