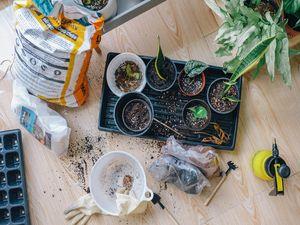 Spring is a great time to get out of the house, enjoy a little sunshine, and make some much-needed updates and repairs around your property. After a long winter, many home improvement projects need to be tackled to enhance your home's curb appeal and ensure all appliances and features work at their best.
Here are a few simple ways to spruce up your home this spring.
Service Your Air Conditioning Unit
Before you know it, the weather will be scorching and you will rely heavily on your home's air conditioning unit to keep your house cool. To ensure this appliance works at its best, you need to get it ready. Hire a professional to come to your house to maintain the unit. These individuals will clean in and out of the air conditioner and remove all unwanted debris. They will also look for any potential problems and repair them before it causes extensive damage to your unit.
Lay Down Fresh Mulch
Mulch is an excellent way to keep your flower beds looking their best. Mulch can come in a variety of substances from old newspaper clippings to fresh bark. Mulch is ideal as it keeps moisture in the soil, decreases the number of weeds that grow, and better regulates the temperature of your plants. The right type of mulch can also improve the health of your soil, giving your plants an extra boost.
Paint
The outside of your home could likely use a little boost in curb appeal. An immediate fix is to apply a fresh coat of paint. This could be to your home's entire exterior surface or smaller areas such as your trim, shutters, or front door. Just make sure that you use the correct type of paint for the exterior of your home and that you choose the paint wisely.
Inspect Your Roof
After a long winter, your roof could use some much-needed repairs. Spring is a great time to inspect your roof and make necessary updates. The harsh winter weather, animals, branches, and other debris can damage your roof. It can cause shingles to become loose or go missing altogether. If you have little experience with roofing, call a professional to complete an inspection for you and to make all necessary repairs. The roof is one area of a home where small mistakes can lead to larger, more inexpensive problems.
For more information on home improvement, the Collingwood real estate market, and buying and selling advice, visit Collingwood real estate agent Christine Smith's blog.