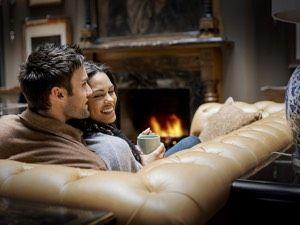 The buzzword for 2017 is already apparent when it comes to your home and your lifestyle. Hygge (pronounced hue-gah) is the art of making normal and everyday moments and objects special, pleasurable and comforting. This Danish word is one meant to evoke a feeling of beauty and is an approach to living that results in positivity and enjoyment of what happens daily. Even better, this word can be used as a noun, verb or adjective and the most literal translation for it would be "cozy".
Since the word has become a something larger on this side of the pond, people are using it as a way of expressing themselves in their home. Their goal is to strive to have a home that is hygge. Well, how do you make this happen? While your general attitude is the best resource for living a hygge life, there are ways you can arrange your home so that it represents hygge. In Collingwood, the snow has been falling and many people are retreating to the indoors and it is in winter where you most want that hygge feeling.
Fire
Warmth is one way to get that hygge feeling and fire is the best way to get you warm. Think of sitting in front of that hygge fireplace on those cold January days with a book or cuddling with someone special. If you don't have a fireplace, or along with it, you can also light some candles. Scandinavians use candlelight to transform their interiors, seeing it only by the light of the candle — a truly Hygge aspiration.

Texture
"Hygge Homes" or in this case "Hygge Collingwood Homes" have varying textures present, as these can give us a comforting feeling, along with adding appeal. Texture adds dimension, whether it is in the wood floors, the chunky knit cushions, a thick cashmere blanket or some other tactile surface in your home. Layering textures is important in 2017, so consider this when you are accessorising your Collingwood space!
Simplicity
Hygge, while presented best when elements are added, is truly about simplicity. It is about finding perfection without needing much more than you already have. Take a survey of your space and decide if there is anything that doesn't fit or is just "too much" for the room. While there is always a place for big and bold, if you are going for hygge, understated and simple is how you'll do it. Think indulgent and not extravagant.

Positivity
Because the concept of hygge is about enjoying what you already have, you'll want to reduce the negativity in your space. Again, take a look around your rooms and remove things that have a negative association to them. Your home is your castle and it should be a place of positivity, where you feel safe and protected, both physically and mentally. If certain items or spaces give you negative feelings, remove or change them immediately.
Light
A hygge or cozy home is full of light — not bright and searing mid-day sun type of light, but muted and early evening type of light. This is why fire or candles are so important, but you can have this feeling during the day and outside of the winter months, but positioning your best seating areas near windows and adding window coverings that add a sheer cover to block out direct sunlight.

Add a touch of Hygge to your Collingwood Home before you sell!
If you are thinking of selling anytime soon now is a good time to add a touch of hygge to your home — think of it as staging a home for those cold winter months. Contact Christine Smith at (705) 888-0201 and ask how to get your home listed on the Collingwood Real Estate Market.