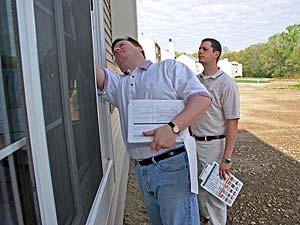 The home buying process is a stressful one for many, and its often good news to hear the closing is on the horizon. Not only do thoughts of which paint colours to choose go through your mind, but also if you need new furnishings. However if you're the prospective homeowner, before any of these details can receive a checkmark on the to-do list, your final walkthrough must occur. The purpose of your final walkthrough is to offer you the opportunity is to ensure the home is in good condition, and everything is working as it should.
Scheduling your Final Walkthrough
During your final walkthrough, you have the opportunity to address all last-minute issues that must be taken care of before the closing. A thorough home walkthrough should only take approximately thirty minutes. Be sure to check for all new issues that could have happened since your last visit to the location. For example, if a severe wind or another kind of storm took place, inspect the home for damage. Remember, following the closing; the previous owners are not responsible for damage that occurred before that date. Make sure you schedule your final walkthrough, so there's enough time before the closing to address any issues your find.
How to Conduct the Walkthrough
During your final walkthrough, all major appliances that are included with the purchase of the home should receive another inspection to ensure they're still in good working order. Test every outlet and switch to ensure there are no electrical issues. At this point, you may also need to check to see if any permanent fixtures the owner agreed to leave behind are now missing.
Here are some additional recommendations:
Are the walls damaged from items being moved out?

Have the original owners left unwanted items behind?

Does the property and yard look like it's in good condition?

Did you bring a home inspector along with you?
Don't Wait or it will be too Late
When identifying problems during your final walkthrough, it's critical to explore your options immediately. If you realize there are too many issues to address, you can decide not to purchase the home altogether. However, the problems should be significant before making a decision like this. Otherwise, postponing the closing date until the original homeowners address the problems is a better option. At this point, you and the original homeowners will have to work out an agreement regarding the fixes before the new closing date.
Once all the fixes are complete, you're now ready to proceed with your final step–the closing process. Because you've taken your time with your final walkthrough, there shouldn't be any surprises during this process. Now it's time to start relaxing and planning for homeownership.