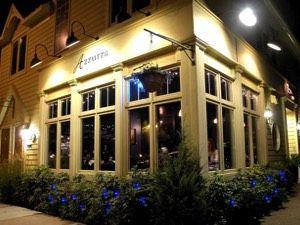 Collingwood and its surrounding communities are so lucky to have some amazing restaurants with top chefs, locally-grown food and creative dishes. Don't just visit for the food though, the atmosphere at these restaurants is incredible and well-worth the drive from the city.
Collingwood Restaurants

Brunello at 27 on Fourth — experience Tuscany's finest Italian cuisine at this rustic, fine-dining restaurant. Must-try: brushetta, rack of lamb, osso bucco, venison meatballs, antipasto platter.
Northwinds Brewhouse & Kitchen — locally-sourced food and craft beer brewed right on site at this trendy restaurant known for their fantastic service. Must-try: beer flight, mushroom roll, mac n' cheese, seared tuna.
The Smoke — everything here is smoked in-house and this restaurant was on You Gotta Eat Here! Must-try: mac n' cheese, bbq sauces, smoked trout, brisket, full rack of ribs.
Duncan's Cafe — an American cafe featuring scrumptious sandwiches and more and has been published in Where to Eat in Canada for the last four years. Must-try: mulligatawny soup, eggs Benedict, chicken club, turkey burger, pork spring rolls.
Trattoria Azzurra — Italian family-style dishes to share with friends. Must-try: gnocchi, panzerottis, trout, antipasti, wine, mushroom risotto.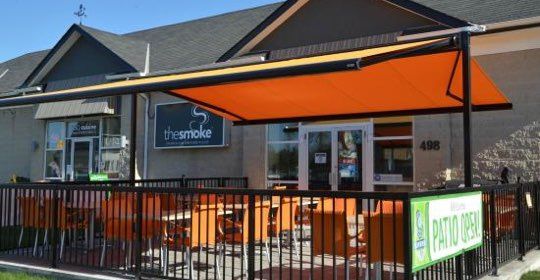 Thornbury Restaurants

The Dam Pub Gastropub — it is worth the drive from Toronto to visit this unique restaurant with amazing food selections. Must-try: lamb shank, haggis, mussels, bread pudding, whiskey.
Bruce Wine Bar — a casual restaurant with an open kitchen featuring a wood-fired oven, this restaurant is an absolute stop if you are in the area. Must-try: cheese board, pizza, tomato and burrata salad, warm rosemary olives, burger.
The Mill Cafe — local, fresh and inspired dishes that will tempt your tastebuds, located in a historic building. Must-try: arancini, fish and chips, Sunday Ceasars, salmon, brisket sandwich.
Sisi — with a beautiful menu and impeccable service, this restaurant is loved by residents and visitors of the area. Must-try: complimentary savoury popcorn, duck wings, broccoli salad, chef's tasting menu.
Orchid — a fantastic place for breakfast or lunch. Must-try: French toast, eggs Benedict, omelette, pancakes.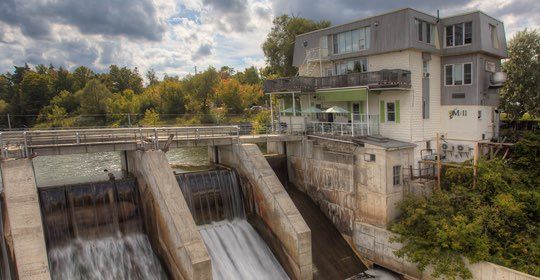 Blue Mountains Restaurants

Firehall Pizza Co. — casual pizza joint featuring fresh fare in a fire hall-themed atmosphere. Must try: build-your-own pizza, meat-lovers pizza, nachos, arancini.
Tholos — beautiful Greek restaurant with large portions and entertainment. Must-try: chicken souvlaki, flaming cheese, rack of lamb, dip platter.
The Pottery Restaurant — with a rich history, this restaurant has been the spot for residents and visitors to Blue Mountain for many years. Must-try: prime rib, eggs Benedict, French toast, breakfast buffet, cheesecake.
C&A Steak Company — an American steakhouse serving traditional steakhouse meals with impeccable service. Must-try: lobster tail, surf and turf, shrimp cocktail, filet mignon, chocolate cake.
Oliver Bonacini — a chic eatery with savoury food choices and a well-chosen wine list. Must-try: mushroom soup, eggs Benedict, smore dessert, crème brulee, bread dipped in lemon caper olive oil.