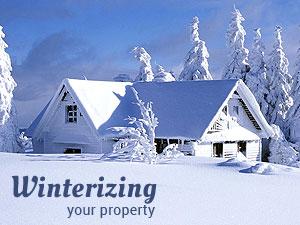 Winter is a time for lots of snow and lots of holiday cheer! But it can also be a time of year for severe weather and harsh temperatures. There is no way that you can avoid an Ontario winter. There are many things that you must do in order to prep for the winter season, but winterizing your home is one of the most essential tasks. Failing to winterize your home can lead to disaster for both you and your property's value. If you are looking to protect that real estate investment that is your home, you need to make some effort to have it fully winterized each and every winter. There are a number of bad outcomes that can occur if your home is not properly winterized. The amount of winterizing steps that you need to go through ranges on where your home is located and the type of home you own.
Colder temperatures and higher amounts of snow can occur across the Southern Georgian Bay areas. Homes across this region need to be taken seriously when winterizing your property. Here are a few tips to use to winterize your home.
Keeping your roof clear of snow
The roof is one of the most integral components, it may be out of sight, but it should not be out of mind. It is always essential that you have your roof evaluated before the winter season sets in. Your roofing system is not designed to last forever. Wear and tear over time no matter what type of material it is made from. A roof that is vulnerable can undergo severe damage due to snow, wind and ice buildup – especially during the winter months. This means that you need to have your roof fully inspected regularly. This will ensure that your roof is not susceptible to damage. It is best to leave your roof inspections to the professionals, but if you do try to do this on your own, make sure to look around the flashing for any noticeable damage.
Ice Dam Prevention
One aspect that you need to take seriously when winterizing your home is ice dam prevention. Ice dams have the ability to cause many different problems for your property. They can result in damage to your gutter, walls and ceilings. This means that an ice dam can often lead to mold growth. It is essential that you understand an ice dam is often created after a large snowfall. The snow that is closest to the surface of the roof will begin to melt; the water will then move down the roof and then freeze once it is removed from the warmest point of the roof. Poor ventilation is often what causes ice dams. This means that you always need to check the ventilation in your attic before winter and take a good look at the insulation. Using a roofing rake during the winter months is often the easiest way to keep ice dams from forming.
Even though many are saying this year is going to be a milder than normal winter across Ontario and Southern Georgian Bay – this doesn't mean you should slack off on your winterizing chores.
For additional tips on how to protect your real estate investment contact Christine Smith at (705) 888-0201 today.